AMENITIES

We sit below the Island's favorite Pub, Harbour Public House, with 12 Northwest Beers on tap, wine, a complete menu, waterfront deck, and adult, non-smoking atmosphere. Complimentary tie-up is always available for Pub patrons. In addition, you are just a short walk from the many other fine bistros, cafes, bakeries and shops in town.

FACILITIES

Our Marina boasts some of the finest facilities in the harbor. We offer:
Free showers
Laundry facilities
Water, electrical (30 amp), phone and cable TV
Pump out station
PERMANENT
MOORAGE

Many residents enjoy the slower pace of the Island while maintaining careers in Seattle, only a 35 minute ferry ride away. We strive to keep the proper mix of liveaboard and non-liveaboard boat owners to maintain the quality of life for everyone.
TRANSIENT
MOORAGE


We also offer temporary moorage for weekend visitors or cruising enthusiasts. Because availability constantly changes, we suggest that you call in advance of your arrival. The dockmaster is available by telephoning 206/550-5340 to answer your questions and assist you with your visit.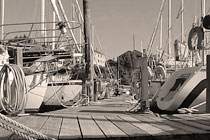 Harbour Marina's Wooden Floats
Harbour Marina's wooden fingers and docks were a requirement of Judy Evans, the original co-owner and wife of R. Jim Evans the designer and builder of the marina. While concrete was in wide use when the marina was built in 1982, Judy preferred wood.

Sanitation Sewage Pump-out
Harbour Marina added a hydrant-type pump-out system to the docks in 2007 from a Grant from the Clean Water Act. This places every boat in the marina within 50 ft. of a sewage connection.

Marina Brow
Dr. R. Jim Evans was a UW Engineering Professor at the time he designed and built the marina. He has been heard to say that the marina brow was one of his favorite designs.

Waterfront Trail
The Waterfront Trail now extends from the ferry terminal to just beyond the pub/marina property, then jogs up to Parfitt Way before it rejoins the waterfront at the end of Winslow Way. It's a fun way to get here from the ferry and an efficient way to explore the town.


FREE WI-FI

Harbour Pub & Marina, and Pegasus have expanded their free WI-FI along Parfitt Way and the waterfront. With three hotspots throughout the waterfront neighborhood, most everyone who lives or works here is within range of an access point — both indoors and outside. Boaters, visitors and anyone who can receive a signal can log on to the parfitt_wireless network anytime. All that is required to register to use it is a name and an email address. Registration and use remains free.
Enjoy Bainbridge
Island As
A Destination

Harbour Marina affords you ready access to the island's two historic as well as favourite restaurants. Harbour Public House & Pegasus Coffee House. Spend a day, a weekend , a week or a lifetime. We will accommodate your needs. If you are here to eat, take advantage of our complimentary moorage at the south end of our eastern-most dock. Stay for free on our blue cleats while you're patronizing Parfitt Way restaurants.

Pegasus Coffee House
est. 1980


The Harbour Pub
est. 1991